A Guide to the V & A Waterfront Restaurants 
When visiting the V&A Waterfront in Cape Town, you are spoilt for choice when it comes to dining out. There are numerous restaurants at your disposal coupled with a wide array of fast-food establishments. Having lived in Cape Town for a while and being in such close proximity to the waterfront, we had managed to experience various restaurants. Here is a guide to the V & A Waterfront Restaurants, which will enable you to find an option that suits your tastebuds as well as your pocket.
Lupa Osteria
Who hasn't craved Italian food, well if that is you then why don't you try Lupa Osteria. They are situated next to the Clock Tower and offer amazing food, great service and all this at affordable prices. They also offer discounted lunch specials on certain meals so that's a good option. See my full review on Lupa Osteria

Life Grand Cafe
If you are looking for a little bit of everything, then the Life Grand Cafe is the place to visit. It offers a comprehensive menu, fantastic service and one of the best creme brûlée's out there. They also offer spectacular views of the harbour being that they are situated next to the dock area. Check out my full review on Life Grand Cafe.
Bukhara
Here you will experience a modern take on North Indian cuisine specialising in charcoal tandoori dishes as well as carefully crafted curries. The offering includes various styles of seafood, chicken, lamb and vegetables. They are reasonably priced and offer great service.
Harbour House
A different fine dining experience with classy cuisine. They specialise in excellent seafood dishes, including a reputable sushi bar. The inside of the restaurant consists of beautiful decor with a sophisticated setting. As expected the prices are on the higher end of the scale but with such great food and fantastic service, its a non-issue.
The Greek Fisherman
Looking and wanting to try Greek cuisine then The Greek Fisherman is your go-to place. It is situated on the upper level of the Mall and boasts an authentic host of dishes. It pays homage to its Greek origin and offers typical dishes. Their meze platters were delicious offering generous portions. See my full review on The Greek Fisherman.
Meloncino
This is another Italian establishment who offer a range of pasta and pizza dishes. They also offer winter specials, which can be viewed on the waterfront website. Meloncino is located at the upper level of the mall and if you are seated on the outer section you have stunning views of the harbour. Check out my full review of Meloncino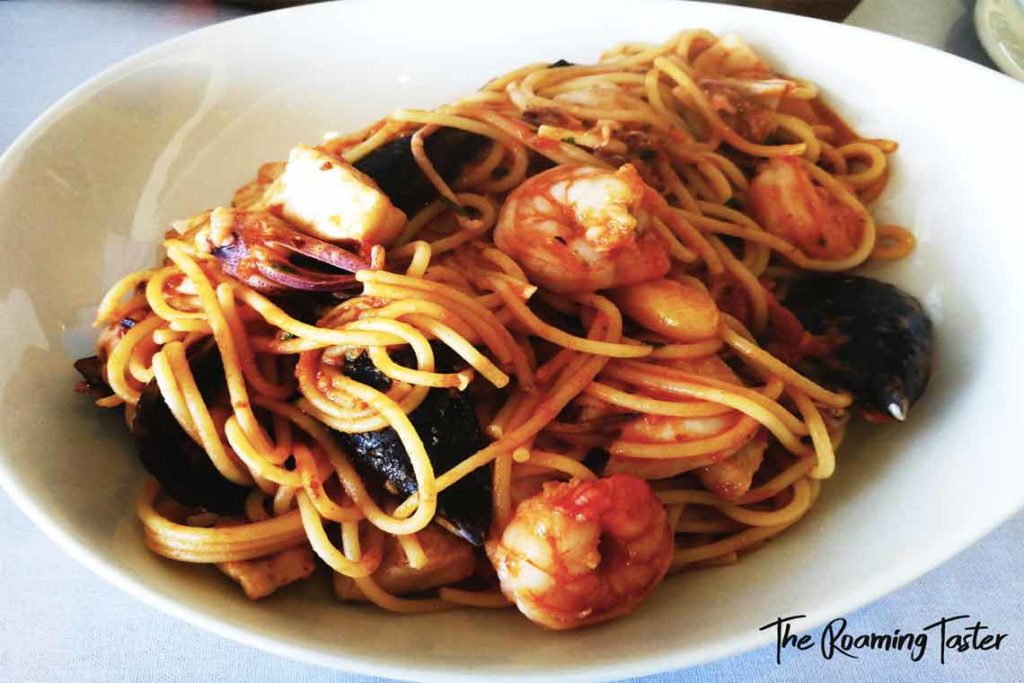 Want a FREE South African Bucket List?
Subscribe below to The Roaming Taster Newsletter and receive a FREE South African Bucket List. You will also gain access to travel guides and tips from South Africa and around the world by joining the community.
Sevruga
If you are looking for a fine dining experience with cutting edge culinary techniques and flavours, then Sevruga is the place to visit. They are on the higher end in terms of pricing but for the quality of food and appreciating the fine dining experience it is well worth it. Check out my full review on Sevruga.
If a sit-down restaurant is not what you had in mind, there are also loads of on-the-go options. These include Steers, McDonald's, Nandos, Anat, Cinnabon and Kauai. There are also numerous coffee shops located throughout the V & A Waterfront. For a complete list of all the food options, you can find all the information on the V & A Waterfront site.
Ultimately there will be an option suited to every person's taste preferences, budget and convenience expected at the V & A Waterfront Restaurants. Which of these places has been your favourite experience and what did you enjoy the most?
If you liked this post, why don't you check out my previous post about the various ways to travel around Tokyo. Travelling around Tokyo can be challenging if you are not sure what options are available to you and the cost implications associated with each of them. Here you will find the Best Ways to Travel around Tokyo. And there will definitely be an option for your trip.
* Please note that all prices and contact information are correct at time of publication. Please check the venues websites as prices may change without notice. *