Whenever I am in Durban, I am always looking for the latest food trend to try out. And Sugarlicious has been popping up all over my Facebook feed. So when I had the opportunity to give it a try I was all for it. Sugarlicious is situated at Palm Boulevard in Umhlanga opposite the Gateway Theatre of Shopping Mall. They are selling the newest trend on the market, ice-cream macarons which is basically a deliciously flavoured ice-cream enclosed in equally flavoursome macarons.
Sugarlicious has quite an assortment of flavours making it tremendously difficult to choose just one flavour. That being said, and knowing how I struggle to make food decisions, we ended up purchasing fourteen (14) different flavours of ice-cream macarons. So that everyone in my family could taste these and decide which was our favourite. For an additional cost, they provide a take-away box which contains dry ice. This is to enable your ice-cream macarons to retain its shape during your journey home. Let me break down the different flavours which we purchased.
Signature Collection
I'm starting with my favourite of the lot which is the Choc Nut Deluxe. This one is part of their Signature collection which is the most expensive selection they offer. However it is well worth it and truly value for money. It reminded me a lot like a Magnum Almond ice-cream with the addition of a macaron inside. It was simply spectacular. We purchased two of this particular ice-cream macaron and upon tasting it instantly regretted why we didn't purchase more.
The other ice-cream macaron in their Signature collection is the Midnight Berry. This as well tasted similar to a Magnum Berry ice-cream. It was berry delicious.
French Kisses Collection
There is also the French Kisses collection. Of which we had the Ferrero inspired ice-cream macaron as well as the choc mint ice-cream macaron. Both of these were delightful. The Ferrero inspired ice-cream macaron is topped with crushed nuts. Giving it that Ferrero style that we all have come to know and love. In comparison the choc mint ice-cream macaron had the precise balance between chocolate and mint flavours with neither overpowering each other.
Standard Collection
The standard collection contains the most variety and of which we got all eight flavours. These included the Burfee ice-cream macaron, cotton candy ice-cream macaron, Bombay crush ice-cream macaron, milo ice-cream macaron, cookies & cream ice-cream macaron, peanut butter ice-cream macaron, bubblegum ice-cream macaron and the unicorn tears ice-cream macaron. From this selection my favourite was the Burfee ice-cream macaron. As the ice-cream was smooth and creamy topped with silvered coloured almonds and was tantalizing. If you have ever had a tall glass of Bombay Crush, you know how refreshing of a drink it is. And this ice-cream macaron is a close comparison to the drink providing you with that cool feeling.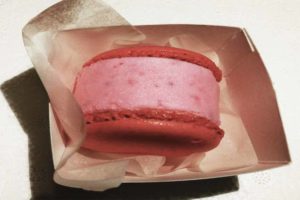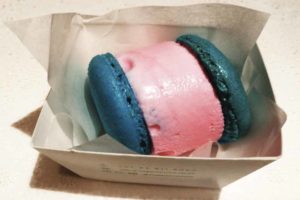 The remainder of the flavours we had were similar to the ice-creamy milkshake flavours we are all used to. The Unicorn Tears (I know, the name itself is so dreamlike) was a unique flavour. With two different flavoured macarons enveloping a smooth helping of creamy ice-cream and topped with biscuit crumbs.
We also purchased two more flavours which was not contained on their menu. Which were the banana split ice-cream macaron and the passion fruit ice-cream macaron. Of the two flavours, my favourite was the Banana Split as it was topped with sprinkles and a cherry. And reminded me of indulging in a Banana Split on an outing to the ice-cream parlour. These flavours were contained in their freezers when we visited. So, I am unsure if it is a regular feature on their menu. It would be best to have a look when you visit. We found these additional flavours in their freezers when we visited.
Recommendation
Overall Sugarlicious produces delectable macarons with that expectant crisp exterior and soft center coupled with creamily smooth ice-cream in heavenly flavour combinations. It's the ultimate combination of two dessert favourites. There will definitely be a flavour suitable for all palates and taste buds. I encourage you to give them a try and experience this food trend for yourself. They also offer both hot and cold beverages but in my opinion the ice-cream macarons steal the show. Although they are located in Durban, I have noticed that they set up pop-up shops in other parts of the country. I have linked their Facebook and Instagram details below, so you can ensure that you do not miss one of their pop-up shops in your area.
Please let me know whether you have tried this and what your thoughts were of these ice-cream macarons.
If you liked this, why don't you check out my post on my dining experience at Life Grand Cafe at the V and A Waterfront, Cape Town.
Sugarlicious Contact Details:
Facebook: https://www.facebook.com/sugarliciousza/
Instagram: https://www.instagram.com/sugarliciousza/
Website: https://sugarlicious.co.za/