If you have ever been to the V&A Waterfront, you will know that there are so many places to eat. The options vary from fast food outlets to fine dining chic. On this particular excursion to the Waterfront, we opted for Italian as I had a craving for pasta. This actually seems to be most days in my life (I mean who does not like creamy soft sauce loaded pasta), and we chose Meloncino.
Meloncino is located on the upper portion of the shopping mall and has views that overlook the ships docked at the harbor. The décor is clean, crisp with contemporary styles evident throughout. The waiting staff are friendly and efficient with a knowledgeable repertoire of the meals included on the menu. The menu is vast and includes a range of starters, salads, pasta (which is what I came for), grilled meat dishes, pizza and dessert.
Drinks
They also offer a large variety of drinks, which I ordered a passionfruit daiquiri and my husband ordered a mojito. Both drinks were refreshing and well put together with just the right mix of the different components.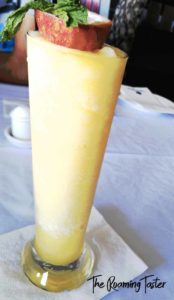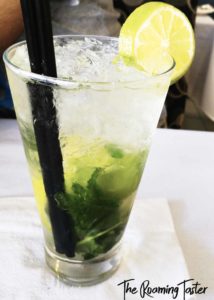 Mains
For mains, I chose the Tagliolini Con Salmone, Radicchio E Speck. This consists of tagliolini pasta, smoked salmon, cognac, raddichio (which is an Italian red chicory) and speck (smoked ham) in a creamy sauce. I requested that the speck be left out of my meal as I don't eat that and they gladly obliged. The pasta was homemade, fresh and cooked al dente. The salmon added the smoked flavour as well as a depth of texture to the dish. The sauce was creamy and luscious. The pasta was topped with grated parmesan and edible flowers. The flavours and textures of the dish were tantalizing, making it an enjoyable meal. I cleared my plate of all its indulgent goodness. My only critique of the dish was of the portion size as it was priced at R169.00. And I felt that it was on the smaller volume for a main meal.
My husband chose the Spaghetti Scoglio In Carta Fata. This comprised of spaghetti, black mussels, queen prawns, calamari, baby octopus, line fish, cherry tomato and chili which was served in a transparent wrapping. Basically, it was as if the entire ocean was contained in that pasta dish. It had a little bit of everything which were all elegantly combined to enable all the different flavours to shine through individually. It contained an ample amount of prawns, (which generally restaurants skimp out on, especially when contained in a pasta dish), mussels and fish intertwined with the pasta. This dish cost R199.00 and was well worth the rand.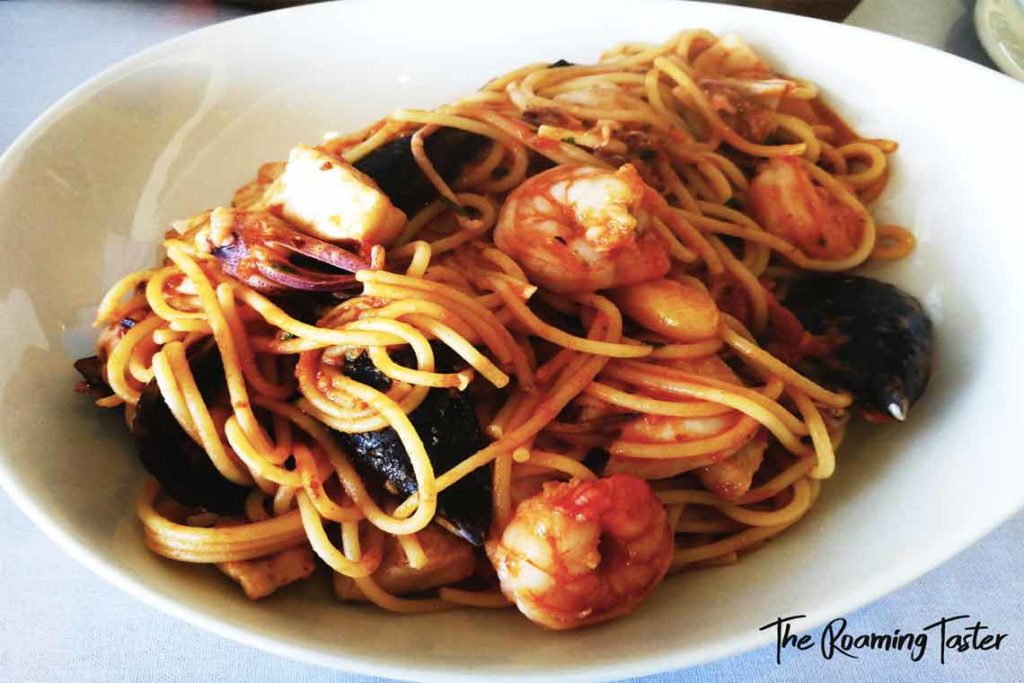 Dessert
We didn't have a lot of time to have dessert, so we opted to not have some. However, the desserts on offer include Nutella chocolate mousse, a Nutella flavoured tiramisu as well as a panna cotta. These all sound like winning options and I am eager to try them on my next visit.
Recommendation
Overall, I found that our experience at Meloncino was pleasant. The food was delicious albeit my portion size issue, and the ambience and staff were warm and inviting. If you are in the V&A Waterfront area and are looking to try out some authentic Italian cuisine, I would recommend that you try them out.
As always, please let me know in the comments section below if you have tried them out. How was your experience? Did you perhaps try the desserts, I would love to hear how it was?
If you liked this, why don't you check out my post on ice-cream macarons at Sugarlicious in Durban.
Meloncino Contact Details:
Website: http://www.meloncino.co.za
Tel: +27 (0)21 419 5558
Email: [email protected]