Day Trip to Chobe National Park, Botswana
Chobe National Park is situated in the northern parts of Botswana near the Okavango Delta. We have always wanted to visit this area of Botswana however it is very difficult to access as it is so north. The park consists of unspoilt grasslands and spectacular safari experiences. And as a result it is exceptionally popular and well-known for its large herd of elephants. Firstly, spotting herds of elephants in their natural habitat interacting and proceeding with their daily life is beautiful and something never to be forgotten. In addition to the elephants, there are also lions, buffalo and various species of game to view at the park. A Day Trip to Chobe National Park in Botswana was definitely something we had to do. 
Chobe National Park is approximately 11 700 squared kilometres. The closest town to the park is Kasane in Botswana. Therefore one of the easiest access points to the park is from Livingstone, Zambia. As it is only 98 kilometres away from Kasane. During our last trip to Zambia, we booked a day trip to Chobe National Park. Here is a break down of this day trip together with the costs associated with it. And everything else you will need to know before you go. 
Where to book and cost?
These day trips to Chobe National Park are readily available through most accommodation outlets in Livingstone. They are also available from Zimbabwe, if you are visiting and located there. You can either book the tour when you are booking your accommodation (the accommodation establishment will provide you with a list of available activities which you can book simultaneously) alternatively you can book it when you arrive in Livingstone. The latter is the riskier option as you are not guaranteed availability for your chosen date however that was the option which we chose as we were flexible with our dates. 
We stayed at Jolllyboys Backpackers in Livingstone, Zambia and upon our arrival we enquired with reception as to the available activities. We were provided with a booklet and chose the Chobe National Park day trip. It cost US$ 157 per person. This amount had to be paid in cash but we were given the choice between paying in US dollars or in Kwacha (Zambian currency). Our choice was to pay in Kwacha as it was easier to withdraw cash in the local currency. We paid this amount directly to Jollyboys and they arranged and booked the trip on our behalf with Kalahari Tours. The receptionist informed us that we would be picked up at 07:00am on the chosen date. 
Timeline and breakdown of the Trip to Chobe National Park:
07:00 am
We were picked up from Jollyboys Backpackers and driven to the Kazungula Border. This is Zambian / Botswana border. The journey to the boarder is approximately one hour. Our passports were stamped by the Zambian officials authorising our exit from Zambia. We were assisted in this process by the staff of our accommodation establishment. 
Fun fact:  The Kazungula Border is separated by the Zambezi river. Therefore the only way across from Zambia to Botswana is via ferry. There is a bridge which is presently being built and upon its completion it will assist the transfer between the two countries more efficiently.       
We were escorted to a ferry, where our names were ticked off a list and we were transported via ferry to the Botswana side of the river. Upon our arrival at the Botswana side, we were picked up in safari vehicle by Kalahari Tours. Our passports were stamped by the Botswana officials. At passport control we had to inform them that we would only be visiting the country for the day. The driver of Kalahari Tours assisted us in this process. Before we were allowed to exit the border control area, we had to step in a disinfectant. Thereafter we were driven to the Kalahari Tours base which was situated in Kasane. 
At the Kalahari Tours base, we were provided with tea, coffee and snacks which we could enjoy. And all of these were included in the tour price. The Kalahari Tours base office is located next to the Chobe river. We had about twenty to thirty minutes before we had to head down to the boat.   
09:30 am
The first part of the Chobe National Park tour was a boat cruise along the Chobe River. The speed boat accommodates approximately 20 people. It has a lower and upper deck. All passengers were expected to remain seated on their seats in the lower deck. However, should the boat stop for better viewing of an animal, we were free to climb up to the upper deck. 
Along the Chobe River, there is  Botswana on the left-hand side and Namibia on your right-hand side. The driver of the boat, Richard, was well informed and provided us with a history of the park, the animals and the river. He was also very experienced which enabled us to sight many animals on our cruise. During our cruise we were fortunate to sight many hippopotami, crocodile, buffalo, buck and elephant. 
During the boat tour, we were provided with one cool drink and one water per person. These beverages were also included in the tour price. 
Safaris are always a guessing and luck experience, as you never know what you will be able to see, if any. After treading the waters of the Chobe River for a while (you also don't realise how time goes by so quickly), we were promptly returned to the Kalahari Tours base .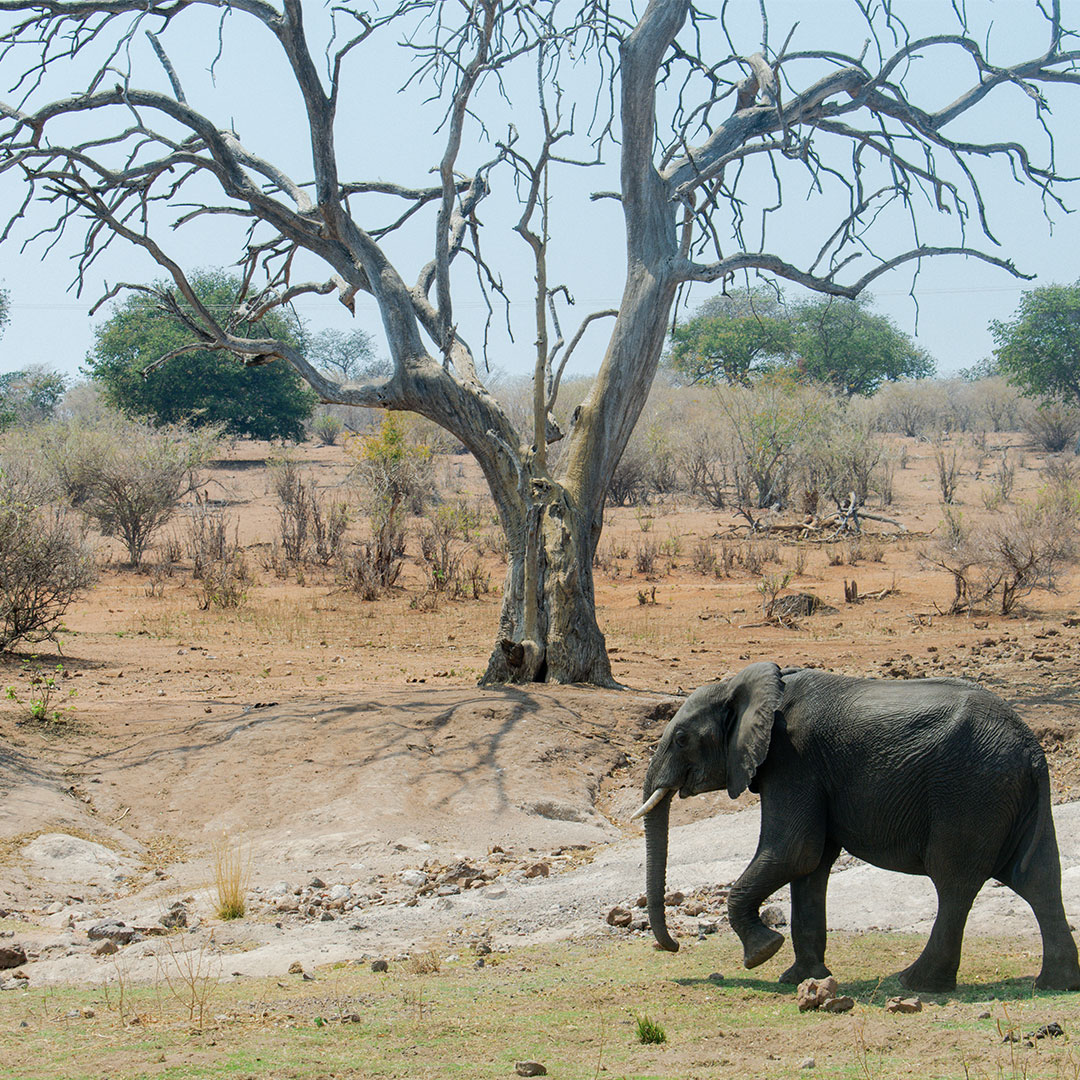 12:30 pm
Lunch was available at the Kalahari Tours base. It was a buffet style lunch and we were offered salads, rolls, rice, lentil curry, cauliflower curry, chicken curry and water to drink. The chicken curry was one of the best I have had and I definitely went back for seconds. 
Cool drinks and other beverages were available however they were at an extra cost. We requested a can of coke. This cost 18 pula (the local Botswana currency). They did however accept rands (our currency) and with the currency conversion at the time we paid R30 for a can of coke. 
Quick Tip: If you are paying in cash, the currencies which were accepted were pula and rands. So please ensure you have some in your possession for any additional items you may wish to purchase. 
13:30 pm
After lunch we were directed to safari vans for our afternoon game drive. We were divided into these vans according to which tour we chose, as they also offer camping trips in the park. 
The safari van drove us from the base office to the entrance of the park. We had to wait in the vehicle whilst they confirmed our entry and thereafter we entered the park. We were driven around the park to spot animals for almost 2 hours and 30 minutes. During our game drive, we encountered hippopotamus (which actually looked likes rocks in the mud), giraffe, baboons, warthogs, buck and were incredibly lucky and fortunate to be surrounded by elephants. 
This was definitely the highlight of the trip. When our driver, Leo, took us on the trail closest to the Chobe River, we saw a large herd of elephants in the distance. Leo suggested that we hover around in the spot that we were at, as the elephants would make their way to the river, to cool down in the mud. And in a matter of minutes, we started witnessing more and more of the herd heading towards us. At one point, it was rather exhilarating as we were completely surrounded by elephants and had no choice but to remain seated and wait for it to clear in order to leave. It was and will remain one of the highlights of our trip. 
15:50 pm
Once we completed the game drive, we were driven from the Chobe National Park in the same vehicle to the Kazungula Border. We had to once again go through passport control and have our passports stamped. We thereafter had to take the ferry back to the Zambian side of the river. 
16:30 pm
Upon our arrival to the Zambia side of the river via ferry, we were picked up by Isaiah, our driver from Jollyboys, for our return journey. They assisted us to go through passport control and have our passports stamped. Isaiah drove us from the Kazungula Border to our accommodation at Jollyboys. So this journey was approximately an hour long drive. 
Overall experience
Overall it was a lovely experience. It does appear that a lot and not too much happened in the day when you look at the timeline of the tour. However, it was just the right combination which enabled us to enjoy both the boat cruise as well as the game drive and the park itself. 
I am not a usual fan of a tour as I feel like it rushes your day and you don't enjoy the experience however this tour was a definite exception to the rule. Further, I appreciated that all aspects of the day had been planned. Therefore the transfer process between both the countries was effortless. All individuals involved during the day assisted tremendously to ensure that we had a great experience. 
So the fact that it can be arranged with your accommodation amplifies the ease of the process. Therefore the only thing we had to ensure was that we were ready at 07:00 am when we were arranged to depart. We were also returned to our accommodation so we did not have to make any transportation arrangements. 
So I would definitely suggest that you do a day trip to Chobe National Park. There are many tour operators which run this particular tour as we saw many other boats cruising the Chobe River. And I suspect that all offer similar packages.
Have you been to the Chobe National Park and seen the herds of elephants? Or are you planning a future visit?
If you enjoyed this post, check out my previous post on Six Things to do in Hartbeespoort which gives you a list of six exciting things to do in Hartbeespoort, North West, South Africa.  
Want a FREE South African Bucket List?
Subscribe below to The Roaming Taster Newsletter and receive a FREE South African Bucket List. You will also gain access to travel guides and tips from South Africa and around the world by joining the community.
* Please note that all prices and contact information are correct at time of publication. Please check the venues websites as prices may change without notice. *