A Guide to Tokyo Disneyland
Disneyland is everyone's childhood dream, an escape and a place to feel like a child again without any judgment. So what's a trip to Tokyo without visiting this magical place, Tokyo Disneyland. The entire trip is quite overwhelming if you have never been there before or just don't know where to start. We experienced a similar experience from how to get there, to what to do when you are there. As a result, I created this Tokyo Disneyland guide to help you conquer the day.
How to get there
Tokyo Disneyland is situated in Maihama and is an approximate 40-minute train ride. Since we stayed in Ueno, we had to take two trains to get there. The one train took us from Ueno to Hatchobori. And upon arrival at the Hatchobori station, we purchased another ticket which took us to the Maihama station. When you exit the station, there are clearly marked signs indicating where the park is. It is quite a walk from the outer entrance to the actual park entrance.
Tickets and Arrival
Tickets to the park should definitely be purchased online and at least a month in advance. As they do limit the number of people that they allow into the park on a daily basis.
The cost of a park ticket ranges from 7400 yen to 22 400 yen. This depends on whether you take a one day or four-day passport and can be purchased from the Tokyo Disney Resort website.
The one-day passport allows you access into one park for one day. Whilst the four-day magic passport allows you access for four consecutive days into both Tokyo Disneyland and DisneySea. They also have a two-day, starlight and after 6 passport which allows you entry into either Disneyland and DisneySea. Full details for each passport ticket can be found on their website.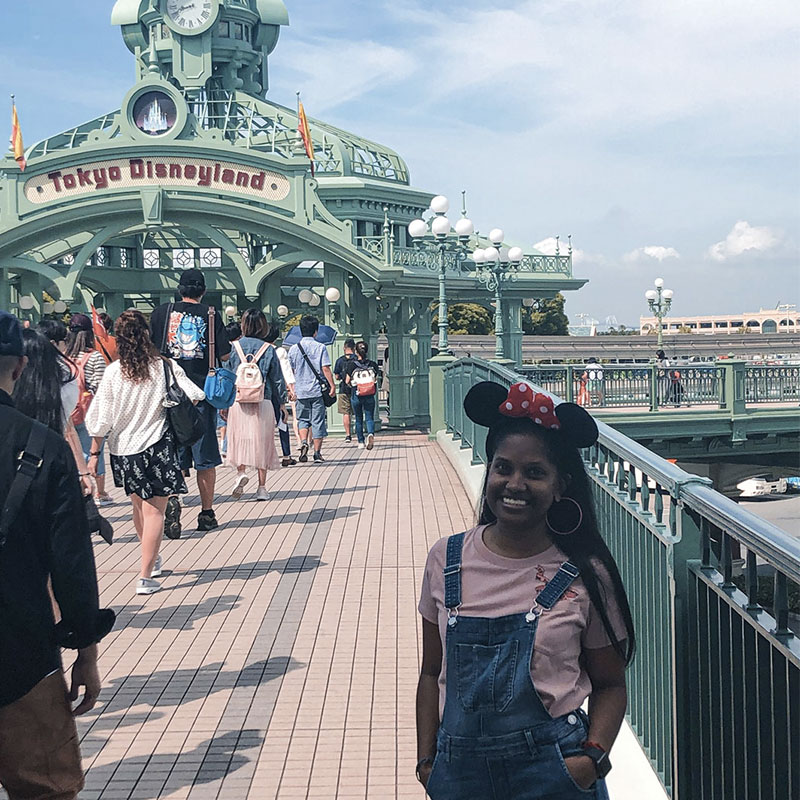 It is best to arrive at the park before opening as the queues to get in will set you back at least 30 to 45 minutes depending on the time you arrive. We arrived at the park about 20 minutes before opening and there were tons of people waiting to get in. We stood out in the sun for about 30 minutes.
Tokyo Disneyland Park
Once in the park, grab a map for an outlay of all the things to do and make a plan. As much as it is fun to walk aimlessly exploring, having a plan will work better in this situation. My suggestion would be to start at the outer ends of the park and work your way back to the entrance.
There are seven areas in the park. These areas include the World Bazaar, Adventureland, Westernland, Critter Country, Fantasyland, Toontown and Tomorrowland. In each area, there are rides, play areas for kids, gift shops and restaurants. Here are some pictures of the different areas to give you an idea of what to expect.
World Bazaar
Adventureland
Westernland
Critter Country
Fantasyland
Toontown
Entrance to each ride involves a wait. The wait time is clearly displayed before you join the queue. This will enable you to decide if you are willing to wait it out. On each day, there are special items which are exclusive to that particular day. And these can also be found on the daily schedule flyer. Keep an eye out for that and maybe plan your day around it so you can experience it.
FastPass
There is also the fast pass option which allows you to skip the queue and get in front for a ride. You are allowed one fast pass every few hours. Its depends on your ticket and you will have to insert it into the Fastpass machine to check. There are eight attractions at Tokyo Disneyland offering fast passes. So maybe start off with your favourite ride so you know you will be able to experience it and work your way around the park.
The Disney characters can be seen walking around which is ideal for a photo opportunity. They also have parades which would involve more characters at one particular place.
Gift Shops
Throughout the park you will find lots of gift shops, often they will have similar items. But some of the shops will have themed items and those will only be found there. The Winnie the Pooh shop was the only one in the entire park that had those themed items. The other characters like Mickey Mouse can be found in most, if not all the gift shops, so you will have ample opportunity to purchase something. There is also a massive gift shop at the initial entrance/exit of the park.
So if you didn't have the chance to pick up souvenirs in the park, you can get some on your exit. The items at the gift shop are pricey but this is to be expected as it is a tourist hotspot. We paid approximately 3800 yen for a pair of Minnie Mouse ears and a Mickey Mouse baseball cap.
Walking
Also, be prepared to walk, the park is huge and the only way to get around is walking. During the course of that particular day, we walked about 20,5 kilometres which is quite a lot. So in as much as you want to look cute for pictures, wear practical and comfortable sneakers, it will make the entire experience more enjoyable.
The Staff
There are staff all over the park who are eager and willing to help you. So if you ever need any assistance, just approach one of them and they will be more than happy to help. As it was just my husband and I on our trip and we wanted a picture together in front of the castle, we asked one of the park staff and she was more than happy to snap a few pics for us. So don't be afraid to ask.
Want a FREE South African Bucket List?
Subscribe below to The Roaming Taster Newsletter and receive a FREE South African Bucket List. You will also gain access to travel guides and tips from South Africa and around the world by joining the community.
Fun Fact
A fun fact, Tokyo Disneyland is the only Disney park to not be owned by the Walt Disney Company. They purchase the license to enable them to use the characters but they are entirely independent. This may explain why the characters speak Japanese at the park or it could be because well the park is in Japan. It was the first park to be built outside of the United States. And it opened on 15 April 1983.
Tokyo Disneyland Contact Details:
Website: Tokyo Disneyland Resort
Address: 1-1 Maihama, Urayasu, Chiba 279-0031, Japan
Telephone number: +81 45-330-5211
Overall you are going to have an amazing once in a lifetime experience (well for those who don't live in Tokyo) and with these practical tips, you will be prepared for the day and have fun in making your memories.
What did you think of this guide to Tokyo Disneyland? Do you have tips to add, please let me know in the comments below?
If you enjoyed this article, check out my tips on The Best Ways to Travel Around Tokyo, which gives you details on all the different ways to travel around the City.
* Please note that all prices and contact information are correct at time of publication. Please check the venues websites as prices may change without notice. *